Minister Nasheed expresses deep regret on the failure of the Newspaper Bill
18-06-2008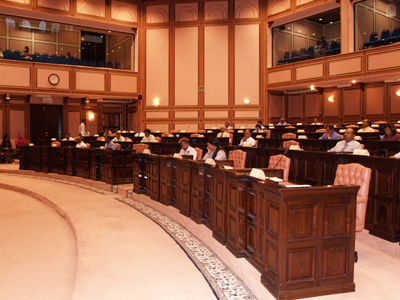 Minister of legal Reform Information and Arts Mohamed Nasheed has expressed deep regrets over the failure of the Bill on Registration and Publication of Newspapers from becoming a law. At the Majlis session held yesterday the Bill failed to become law by want of just one vote. 25 members out of 30 members present voted in favor of the Bill. One member voted against the Bill while 4 members abstained.

A statement was also issued by the Information Ministry regarding the failure of this Bill saying that it has been two years since the government has been trying to pass the Bill to establish an easy and a more reliable way of registering newspapers and magazines.

The statement expressed dismay at the failure of the Bill especially after being debated on at 4 Majlis sittings, discussed at 12 sessions of Social Affairs Committee with 2 amendments incorporated. In this regard the statement noted that a lot of man hours go in to the design, prepare, research, debate, improve, and defend the Bill and that parliament as an institution spend a lot of time, money and energy on the bill. Further the statement expressed regret see a non-contentious bill, which has no apparent controversies, get passed due to poor attendance or lack of interest in the process.

The bill on Registration and Publication of newspapers was part of the media pack of laws proposed in 2006 and was accepted by Majlis last year after significant debate. It had undergone substantial improvement and refinement thereafter in the parliamentary standing committee on social affairs. According to the information Ministry's statement issued yesterday work to make the bill in to law will be continued and that it will soon be sent to Majlis.