Equal Media Coverage Agreement Signed
26-06-2008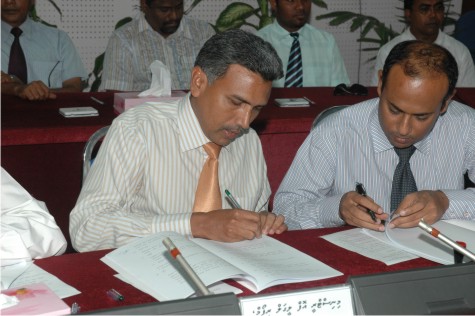 A special agreement was signed between Ministry Legal Reform, Information and Arts and all the political parties in the Maldives yesterday. This function would take place in "Seneco Malam" of Voice of Maldives (VOM) at 1300 hrs.
The agreement was about giving equal rights to use the state media services to all the political parties operating in the Maldives. Such an agreement would lead to coverage of the activities of the political parties and cause awareness regarding the presidential election in the public.
Speaking at the ceremony legal Reform and Information Minister Mohamed Nasheed expressed that equality referred to in the agreement meant that press conferences, rallies, or any other event organized by the parties will be covered by TVM and Voice of Maldives whether or not the parties agreed.

Minister also said the agreement also facilitates purchase of airtime, for announcements, campaign ads and political broadcasts. Further the agreement provides guidelines defining how and the extent to which political news, political activities and political interviews will be covered and aired on state media.

As per the agreement the agreement comes in to effect after 7 days of signing. Further all parts related to the forthcoming presidential election shall cease to be valid once the presidential elections are over. The rest of the agreement shall cease to be valid when an agreement is reached to annul the agreement or when the state media is born under a constitutional authority.