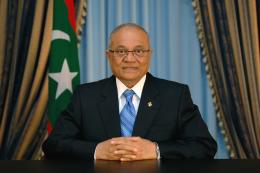 The President says that as the ratification of the Constitution is a great responsibility, with the Grace of the Almighty Allah, he will be ratifying the Constitution on the very near future. He made the statement in his Address to the Nation on the occasion of Independence Day.
The President said that he has been meticulously reviewing the draft of the Constitution that was sent to him by the People's Special Majlis and that he has been fulfilling his responsibility under the Constitution.
In the Address, the President said that he is aware of the varying degrees of criticism that are being levelled at him by some political parties and individuals claiming that he is delaying the ratification of the Constitution, and that they are attempting to lead the public to believe that ratification is merely a ceremony or formality. The President also said that his response to such accusations is that the ratification is not just a ceremony but it is also a massive national responsibility.
Speaking on the responsibilities vested upon him as the Head of State and Government, the President said that it is his duty to do what is in the best interest of the country and its people and to face up to all the major challenges facing the nation today. He said that it is also his wish to listen to and act upon the will of the people. The President noted that there is no one with a bigger responsibility and tougher challenge than him at this point and that with the Grace of the Almighty Allah, he will attach the highest priority to diligently fulfill the responsibilities entrusted upon him by the Constitution.
The President also spoke on the current economic situation of the country. He said the Government is committed to ensuring that the Maldives does not face the type of hardship that some of fellow Asian countries are facing at the moment. He also said that the Government is taking measures to reduce expenditure, identify additional avenues of income, relieve budgetary pressures, and maintain prices at a manageable and affordable level for the people.
Speaking on some of the traditions, customs and values of the Maldivian people, the President stressed that Islam is the national identity of the Maldives and that our behavioural standards, mindset and actions are also greatly influenced by Islam.
In his Address to the Nation on the occasion of the Independence Day, the President urged the people to embrace the many democratic reforms in a truly national spirit, and to learn about these changes. He also noted the importance of responsibility and maturity in exercising the new freedoms and rights that we enjoy under the new Constitution, in order to ensure that the true benefits of these reforms will be felt without delay.