President ratifies the new Maldives constitution
07-08-2008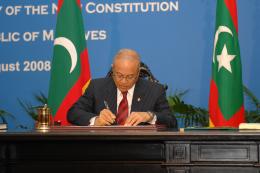 President Maumoon Abdul Gayoom has ratified the new Constitution of the Maldives at 10.32 this morning at a special ceremony held in Dharubaaruge. President signed in a Decree stating he has accepted the Constitution which has been written by the People's Special Majlis assembled by him. A 7 gun salute was given when the President ceremonially ratified the Constitution. The ceremony was attended by former Chief Justice Mohamed Rasheed Ibrahim, former Speaker of the People's Majlis Ahmed Zahir,Speaker of the People's Special Majlis Gasim Ibrahim, senior ministers, cabinet ministers, members of the Special Majlis, Leaders of opposition parties, senior officials of the government and members of the general public.
The President in his speech broadcast live on tv and radio requested the people to take a moment to take part in this important ceremony which will change the Maldives for the better bringing new freedom, and greater opportunities for a new future. He said this is a moment of great national significance. " Today is a day when the status of our nation and people is elevated for several years ahead. Our aim should be to take our responsibilities fully, not to remain as spectators, There is no doubt Maldivians have the ability to meet the challenges we will face in implementing the Constitution." the President said to a nation waiting enthusiastically for real and meaningful reform. " Freedom of expression is one of the fundamental pillars of democracy, This Constitution will bring with it the right and freedom of expression and media." he added.
President's Decree of Ratification was read by Minister in the President's Office Aneesa Ahmed. There was great jubilation in the whole country about the ratification of the new Constitution.