Anni is eligible to run for presidency: Minister Nasheed
Miadhu news 24-08-2008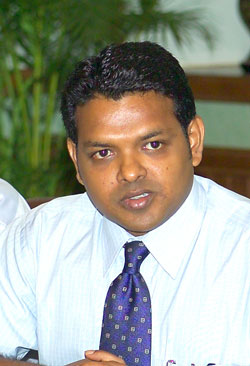 Legal reform and information minister Mohamed Nasheed has said he believes a past theft conviction does not disqualify presidential candidate of Maldivian Democratic Party (MDP) Mohamed Nasheed (Anni) from running for the top office of the country. Nasheed expressed his opinion in an article written in his own internet blog on the 20 th of this month.

Minister Nasheed in his blog provides an analytic view of theft, under the Penal Code of the country and Hadd offenses as defined in Islamic Sharia.

Anni's eligibility began to run for the top job began to be questioned as one of the qualifications for a presidential candidate under the new constitution ratified on August 7 th, is that the president of the country must not be convicted of a Hadd offence.

Minister Nasheed, who is a highly qualified lawyer, wrote that 'Äútheft is a Hadd offence under Islamic Law'ÄĚ.

Minister Nasheed argued that Anni will be able to run for president despite his conviction of theft; and despite the constitutional requirement that a presidential candidate shall not be convicted of a Hadd offence; and despite the fact that theft is a Hadd offence.

Arguing out his case, Nasheed wrote that Anni was convicted of theft under the country's penal code and that a certain section in the Maldivian penal code provides a definition of what constitutes theft. According to Nasheed the section contains the essential elements of the offence and Hadd offence of theft does not correspond to the same definition.

Referring to the origins of the country's penal code, Nasheed wrote that the country's penal code is not divine law, and is developed in the 1960's from the Indian penal code. Indian penal code is a codification of several common law offences recognized as such in England. Theft as a Hadd offence has its elements explained in Islamic jurisprudence and the elements of Hadd offence of theft are different from those found in the penal code, wrote Nasheed.

According to Nasheed, Anni's was tried and sentenced under the penal code and that state prosecution never intended or tried to apply the Islamic law on Hadd on Anni's case. Further court did not establish the Hadd offence of theft against Anni and the punishment prescribed for Hadd offence of theft in the Quran was never applied on Anni.

Minister Nasheed in concluding his arguments highlighted that Anni's prosecution was led by former Attorney General as well as former MDP president Dr. Mohamed Munavvar who after being beaten by Anni in the presidential primaries of MDP resigned from being the party's president citing dissatisfaction with Anni and the party. In his resignation letter Munavvar has raised serious doubts on Anni's eligibility to run for presidency.