The President Nasheed appoints Ministers to his Cabinet
13-11-2008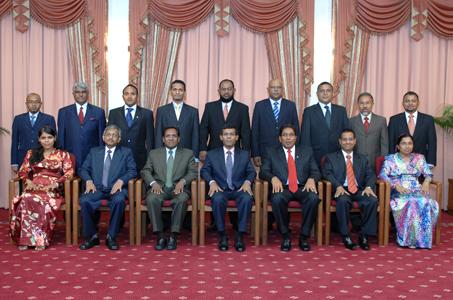 The President has appointed Ministers to his Government. President Nasheed presented their Letters of Appointment at a ceremony held at the President's Office. Before the presentation of the Letters of Appointment, the Ministers took their oath of Office. The newly appointed Ministers are:



1. Minister of Home Affairs, Mr. Gasim Ibrahim

2. Minister of Finance and Treasury, Mr. Ali Hashim

3. Minister of Foreign Affairs, Dr. Ahmed Shaheed

4. Minister of Health and Family, Dr. Aminath Jameel

5. Minister of Defense and National Security, Mr. Ameen Faisal

6. Minister of Education, Dr. Musthafa Luthfy

7. Attorney General, Uza. Fathimath Dhiyana Saeed

8. Minister of Economic Development, Mr. Mohamed Rasheed

9. Minister of Tourism, Arts and Culture, Dr. Ahmed Ali Sawad

10. Minister of Human Resource, Youth and Sports, Uz. Hassan Latheef

11. Minister of Housing, Transport and Environment, Mr. Mohamed Aslam

12. Minster of Fisheries and Agriculture, Dr. Ibrahim Didi

13. Minster of Civil Aviation and Communication, Dr. Mohamed Jameel Ahmed

14. Minister of Islamic Affairs, Dr. Abdul Majeed Abdul Bari

Speaking at the ceremony, President Nasheed said that compilation of the Cabinet was carried out in the full spirit of the new Constitution. He further noted that the People's Majlis has the power to remove from Office, those Ministers who do not fully discharge the responsibilities assigned to them.