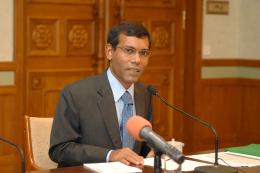 President Mohamed Nasheed and First Lady Laila Ali arrived yesterday afternoon in the Indian capital, New Delhi, on a State Visit. Upon arrival they were welcomed on arrival at the New Delhi Airport by the India Foreign Secretary Mr. Shivshankar Menon, officials of the Maldives' High Commission in India and protocol officials of the government of India.
Yesterday, President Nasheed also met with the President of the Indian National Congress, Shrimathi Sonia Gandhi. The meeting was held at the Taj Mahal Hotel.
In their meeting the President and Smt. Sonia Gandhi discussed on the ways of strengthening bilateral relations and on possible areas of cooperation between the Maldives and India.
The President also thanked the Indian Government for its support and assistances to the Maldives. In this regard he noted that Indira Gandhi Memorial Hospital stand as the most visible icon of the close friendship between the Maldives and India. Further, he noted the quick assistances of India, following the 2004 tsunami.
Noting that the Lakshadweep islands of India have many features common with the islands of Maldives, the President said that Maldivian resort developers were interested in sharing their expertise with India in developing such islands as resorts.
Smt. Sonia Gandhi accepted an invitation by the President to visit the Maldives and said that she looked forward to visit the Maldives.
Furthermore, President Nasheed met with senior officials and some members of the Confederation of Indian Industry; Associated Chambers of Commerce and Industry; and Federation of Indian Chambers of Commerce and Industry. The meeting was held last evening at the Taj Mahal Hotel.
In his address at the meeting, the President welcomed the participants to explore the various investment opportunities in the Maldives. Highlighting that the Maldives offered a very attractive and stable environment for foreign investors he said that the Government gave priority in attracting further investment from countries such as India. Following his speech the President received warm acclaim from the participants of the meeting.
The Government of Maldives also readily signed a trade agreement with the Confederation of Indian Industry (CII). The signing of the agreement was held yesterday, at a meeting held with the senior officials of CII. President Nasheed attended the meeting.
The agreement was signed by Minister of Foreign Affairs, Dr. Ahmed Shaheed and by the President of CII, Mr. Harish Narula.
Speaking at the meeting, the officials of CII noted that the Maldives, especially the northern islands, lie very close with India and that they believe that the Maldives gave high priority to protect the channel between the two countries. Further, they discussed with the President on ways of taking this venture in collaboration with India. They also noted this channel was also an important trade route.