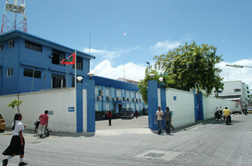 Since the launch of telecasting services on 29 th March 1978 by Television Maldives (TVM), television found its way into almost every household of Male'. A total of 60,848 televisions were imported in the last 5 years, including 19,494 in the year 2000. The popularity and demand for telecasting services has continued to increase and presently plans are underway to expand the reach of these services to the whole country.

The national television channel, TVM, broadcasts nationally, covering news, current affairs and variety of entertainment programs. The second channel, TVM Plus, which Television Maldives started providing in 1994, is a special entertainment channel and is receivable through registered decoders. Currently TVM Plus has a subscription of 1,951 households.

TVM transmit 18 hours and TVM Plus transmits for 10 hours every day. A wide scope of programmes are transmitted by both the channels which include news, national and international current affairs, music, sports, educational and awareness programmes, children's programmes, health programmes, documentaries and leisure shows, recognizing and acknowledging the effectiveness of awareness programmes when telecast, both the Government and non-Governmental organizations have, in recent years, reached out to the people effectively through this medium.